If he could go on without your help
Then he would do it all by himself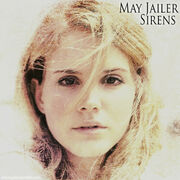 Try Tonight is an unreleased track recorded in 2007. It was track eight for the album Sirens, which Lana recorded under the name May Jailer, an early alter ego.
It was written by Grant and is 3 minutes 34 seconds long. It is described as indie/alterative folk.
The song is about addiction.
Can't put my finger on it
But I know I want it
I'm willing to try another way
That is, if I get by another day
Back and forth, I don't get anywhere
And I've been searching everywhere
And I'll try tonight
Just try tonight
Happy as the moon shine
Sifting in the night time
Cliches find a home inside of him
When he enters all of the lights go dim
He's so sure he's got a tragic lifestyle
And I'm so sure I can make that man smile
And I'll try tonight
Just try tonight
A dark room in the night time
Is how he spends all his time
If he could go on without your help
Then he would do it all by himself
But I don't think he got strength to muster
And he don't got a lot lack of lustre
He'll try tonight
Tonight get higher
He'll try tonight
Tonight I'll get high
But he will, he will, he will, yes, he will